Sense temps d'haver-nos recuperat de la falta de son i de l'èxtasi després de ve
ure Matt Bellamy en tot el seu esplendor, el

Mai a la Vida

ha tornat de Benicàssim per explicar què va passar. A la matinada de dilluns acabava la tretzena edició del FIB amb el déu sol torturant els ulls i la pell de tothom, com si es tractés de la prova final de resistència després de quatre dies d'excessos, insomni i molta, molta música.


La tretzena edició del Festival Internacional de Benicàssim va portar al poble castellonenc més de 150.00
0 persones durant els quatre dies, amb un 70% d'estrangers. No cal dir que la major part de tots ells eren anglesos àvids de cervesa i sol. Suposem que els grups eren un alicient menor ja que, per raons òbvies, excepte Los Planetas, Astrud i algun altre, la majoria toquen cada cap de setmana a sales britàniques. O a l'estadi de Wembley directament. Oi Matt?
Dijous 19


La tarda de dijous arrancava el FIBStart, aquesta mena de presentació-aperitiu del festival amb menys grups que els altres tres dies, però amb el millor cartell que recordem des
de fa anys. Iggy & The Stooges, Los Planetas, Bright Eyes i Mando Diao van ocupar durant prop de sis hores l'Escenario Verde deixant el llistó prou alt pels que vindrien els següents dies. Els suecs Mando Diao van ser els encarregats d'estrenar el monumental escenari amb un conce
rt de dues parts diferenciades: la primera força bona, amb els hits del penúltim (i molt bon) disc
Hurricane Bar, i una segona més descafeïnada, basada en el darrer Ode To Ochrasy. Cal destacar la diferència entre les veus gravades I en directe tot i que els dos cantants i guitarres van demostrar que són un dels millors grups de rock del moment.
En acabar el concert, les més de 20.000 persones que van omplir el FIBStart més massiu de la història del Festival es van dedicar a formar quilomètriques cues a les casetes de tickets de begudes, arribant amb el temps just (o directament tard) al torn d'Iggy Pop i els seus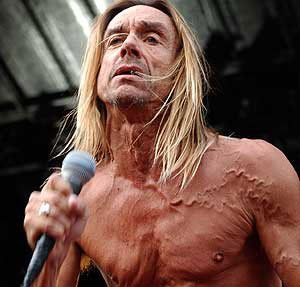 inseparables Stooges, una banda que sap estar a l'alçada del gran carisma del seu líder, tant és
així que ell es va presentar dient "Nosotros somos The Stooges". Amb els seus 60 anys
(només?) Iggy es va mostrar en plena forma, saltant, corrent, fornicant amb els amplificadors i interactuant amb el pú
blic fins a arribar a intentar demostrar la resistència de l'Escenario Verde fent-hi pujar una centena de fans de les primeres files per cantar amb ells 'It's No Fun To Be
Alone˝. L'única cosa que li podem retreure és
que amb l'immens repertori que ha anat completant la Iguana al cap dels anys, els
nordamericans interpretessin el clàssic 'I Wanna
Be Your Dog' dues vegades. Però això ho fem nosaltres, que som uns crítics. Els fans ho van agraïr àmpliament tirant litres de cervesa en la que fou la primera gran pluja d
e civada del FIB
d'enguany.
I d'iguanes sexagenàries a emofolkkids com
Connor Oberst i els seus

Bright Eyes

, o el que és el mateix, el primer gran concert del FIB 2007. Amb un quartet de corda i dues bateries femenines (a més de baix, guitarres i teclats), la promesa feta realitat del nou folk nordamericà va executar tot el Cassadaga. I és que Oberst tenia la fe
ina ja mig feta després d'haver parit aquest gran disc, així qualsevol fa plorar a desenes de milers de persones sota la lluna de Benicàssim. El clímax, amb 'Four Winds' i una versió amb tota la banda de 'First Day of My Life', de l'anterior

I'm Wide Awake, It's Morning.

A partir d'aquí i per poca estona, el FIB va
semblar estar poblat només per espanyols, ja que tots els guiris en massa van posar-se a fer feina i a buidar els milions de barrils de cervesa (piensa en verde). L'esplanada de l'escenari principal es va buidar d'anglesos quan J and friends van sortir a fer dos concerts. En la gira de presentació de

La Leyenda del Espacio

, Los Planetas diferencien en dues parts els seus espectacles (per dir-ho d'alguna manera): en primer lloc les noves cançons i després, les antigues. Així doncs, amb regust de gintònic (per fer-ho anar avall), vam veure com els granadins tocaven 'Ya no me asomo a la reja' i 'Entre las flores del campo' entre d'altres noiseflamenco hits. Al cap d'uns minuts, s'acabaven de treure el vestit de sevillanes per executar la frontissa entre les dues parts amb els singles 'Reunión en la cumbre' i la im
men
sa 'Alegrías del incendio'.

Mira que eres bonita, qué guapa eres.

Després d'això, pam!, una darrera l'altra amb tot el públic saltant a 'Un buen día' i plorant d'eufòria quan just després l'Eric atropellava el bombo i la caixa de la bateria començant la emo 'Segundo premio'. Per no parlar de 'Corrientes circulares', i de 'Maniobra de evasión', i de "Devuélveme la pasta" i de 'David y Claudia', i de 'Santos que yo te pinte', i de 'Canción del fin del mundo'. I d'una immensa 'De viaje' per acabar. Un concert ca
lcat al que van fer al Primavera Sound, excepte per la manca 'Pesadilla en el parque de atracciones'
com a traca final, però que en conjunt sonà molt millor a Benicàssim.
Del fi de festa del FibStart se'n va encarregar

Brazilian Girls

un grup de Nova York en el que només hi ha una noia i és italiana. Els Brazilian fan música electrònica barrejant ritmes, textures i diferents estils, des del reggae al jazz. Cap novetat. Cal destacar el timbre de veu insinuant de la cantant que va mostrar un carisma sorprenent i va acabar posant-se el públic a la butxaca amb una versió musical de "Me gusta cuando callas" de Pablo Neruda.
Divendres 20
La tarda de divendres 20 començava a l'escenari Fiberfib amb dues de les millors veus britàniques del moment, Rufus Wainwright i Antony and The Johnsons. El primer va aparèixer acompanyat per banda, a diferència de l'any passat, on es va presentar en solitari. Rufus va mostrar durant l'espectacle la seva educació musical tocant guitarra, piano i cantant espectacularment, però sempre en la mateixa escala de notes. Com ja ens té acostumats el seu show no podia acabar de qualsevol manera, així que es va decidir sortir vestit amb un b
arnús que tot seguit es va treure per mostrar-nos un
vestit de dona. Que és un showman I que és gay ho sap tothom.
En Rufus, però, tenia un problema, i és que a l'atra carpa, la petita Fib Club, era el torn dels nostres estimats The Unfinished Sympathy , amb la sorpresa de l'Oriol Casanovas a la guitarra. Els barcelonins van fer el concert que havien de fer. Res d'excedir-se amb l'irregular darrer disc We Push You Pull, tret dels hits, i recuperar les imprescindibles de

Rock For Fo
od

,
a més d'

An In Investment in Logistics

, del disc homònim.
I seguim, perquè la tarda de divendres no hi va haver lloc pel descans. Tornem a l'escenari FiberFib on era el torn de l'altra gran veu del dia,

Antony and The Johnsons

. Antony Hegarty acompanyat per un quartet de cordes ens va oferir un recital massa intimista per aquell lloc i aquella hora. A diferència d'en Rufus, l'Antony emana una timidesa que es fa patent per exemple quan toca el piano darrere de tota la seva banda, lluny dels ulls del públic, amb el que finalment va acabar conectant fent una versió de 'Crazy in Love' de Beyoncé. Des que Rockdelux ressenya els seus discos res no ha tornat a ser el mateix.


Pels que no els havíem vist al Primavera Sound, encara hi havia temps per veure

Herman
Düne

, un trio de folk suec amb facilitat per fer cançons simpàtiques (escoltada una, escoltades totes) ideals per descansar a la gespa davant de les pantalles gegants, això sí, si eres a primera fila llançaven samarretes.


A les 9 de la nit, ens trobàvem la sorpresa. El vol dels

Klaxons

, que havien d'obrir els concerts del divendres a l'Escenario Verde, anava amb retard i uns

Who Made Who

que passaven per allà i no tenien hora fins a quarts de dotze a la carpa Fiberfib.com, van ser els encarregats de substituir-los. Al seu torn, els Klaxons ocuparien el seu lloc a mitjanit. Si arribaven. Però van arribar. Sobre Who Made Who dir que van aprofitar el seu moment de glòria a l'Escenario Verde amb una proposta de rock electrònic ballable. A destacar: la versio de "Satisfaction" de Benni Bennassi i la seva disfressa d'esquelets. Tot i l'avís "We are not The Klaxons, we are from Denmark", molta gent va sortir d'allà pensant que havia vist els Klaxons. Així doncs, abans dels britànics, teníem sobre la taula un parell de plats de receptes diferents però prou temptadores ambdues. La primera,

Wilco,

o com no equivocar-se ni en una sola nota durant una hora de solos. Jeff Tweedy i companyia van repassar essencialment el darrer Sky Blue Sky, a més d'apagar un pèl al personal.


Sort en vam tenir de

The Rapture ,

per despertar-nos i obrir de totes totes la pista de ball del divendres. Van enganxar tant que més d'un que tenia la intenció d'anar a treure el cap a la Fib Club per veure què hi feien els Ok Go va canviar d'idea.
Llàstima, els anglesos sor
prenentment van oferir un dels millors concerts del festival amb una divertida proposta de pop rock compacte molt diferent a la dels vioclips amb coreografia inclosa amb els que s'han fet coneguts i que no els fan justícia.
I després de The Rapture,

Klaxons

. Lògicament, el canvi d'hora i escenari va
provocar l'aglomeració més gran del festival, amb una concentració tal que les dutxes d'aigua de la carpa no evitaven la calor i que ens agafés nostàlgia dels concerts de PJ Harvey i !!! del Summercase. En definitiva, els nous ídols de masses britànics van ser els culpables d'un nou moment-pell-de-gallina amb l'execució de 'Golden Skans'.


Però ens deixem un gran artista pel mig i podríem dir que també una de les extranyes però
també agradables sorpreses del FIB d'enguany.

Kiko Veneno

va convertir l'escenari petit, el Fib Club, en una verbena improvitzada i després de més d'una hora de concert el públic seguia picant palmes i demanant més. Kiko va presentar un repertori una
mica extrany, ja que quasi tots els temes eren del seu primer treball conjunt amb els germa
ns Amador "Veneno" però
ens va deixar prou satisfets finalitzant el concert amb la seva famosa 'Joselito'.
La curiositat per veure

Devo

matava després de les bones crítiques pel seu pas pel Sònar de Barcelona. La veterana banda va oferir un concert en el que va demostrar que la seva música no està gens passada de moda, ja que malgrat no haver tret disc des de fa uns 15 anys guarden una frescor comparable a la de qualsevol grup de tendència. El vestuari i l'aparició interestelar del Bob1 (un nen amb ulleres de Nerd) cantant 'Beautiful World' van ser molt celebrades pel públic.


Tancant la nit a l'escenari Verd teníem

Fangoria

. Tal com al dia següent
va qualificar el Fiber (diari del festival) va ser un concert antològic (clar que segons el Fiber, el 80% dels concerts del Festival són antològics). Techno, bakalao, les immenses lletres d'Alaska, les col·laboracions de Chimo Bayo (esta sí, esta no), las Nancys Rubias i dues Drac Queen més masculines que Nacho Canut van fer l'espectacle que Benicàssim es mereixia.


Poc abans de les quatre,

Digitalism

ocupava la Fib Club per fer sonar el seu darrer àlbum Idealism, amb aquesta perla dels dancefloors que es diu 'Pogo'. Calia practicar per donar-li la raó a l'Alex Turner, cantant dels Arctic Monkeys l'endemà.



Montse Casas
Eduard Gras